bRILL mANUSCRIPT #898
"SIDE SHOW STUNTS"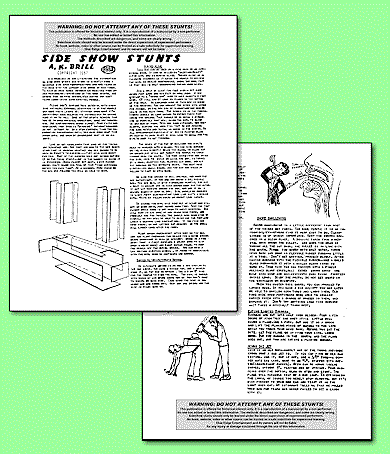 16 CLASSIC
SIDESHOW TRICKS LIKE:
BURIED ALIVE (WITH ALTERNATE VERSION)
CLIMBING THE SWORD LADDER
CHALK TALK SPIKE IN NOSE (BLOCKHEAD)
DANCING ON BROKEN GLASS
BED OF SPIKES SWORD SWALLOWING
BREAKING ROCK ON CHEST
EATING FLAMING BANANA HUMAN GAS JET
BEND IRON BARS FIRE EATING
MENTALIST Q&A ACT BLINDFOLD ACT
NEEDLE JABBING LADY FROM ENVELOPE
---
A vintage explanation of the of the shocking feats seen on the old-time midway and carnival sideshow, from famous carnival-secret publisher A.W. Brill!
Reproduced from a 1940's/50's original. This is an 8-page facsimile edition of an 8½x11" mimeographed typescript.
WARNING: DO NOT ATTEMPT ANY OF THESE STUNTS!
THIS STUFF IS BIG-TIME DANGEROUS!
ALMOST EVERYTHING HERE WILL GET YOU INJURED OR KILLED!
This publication is offered for historical interest only.
It is a reproduction of a manuscript by a non-performer. No one has edited or tested this information.
The methods described are dangerous, and some are clearly wrong.
Sideshow stunts should only be learned under the direct supervision of experienced performers.
No book, website, video or other source can be trusted as a safe substitute for supervised learning.
Blue Ridge Entertainment and its owners will not be liable for any injury or damage
sustained through the use of this information.
NOTE: These pdf files are not sent instantly by an autoresponder - your files will be sent "same day" as soon as a human being sees your Paypal payment and sends them as email attachments. Don't worry, it's still pretty fast!