"QUICK HYPNOTIC TRICKS"
a rare manuscript by Stewart James
THESE EFFECTS ARE EXCELLENT PERFORMANCE MATERIAL
IN THE HANDS OF A GOOD SHOWMAN.
i have performed this act many times with great success!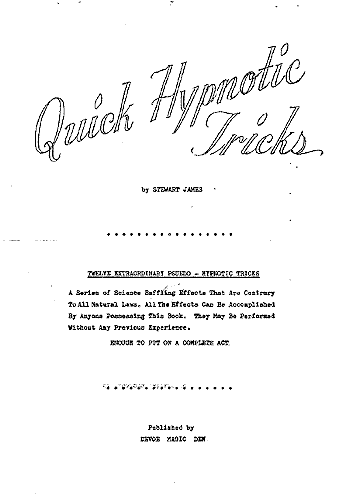 12 STARTLING EFFECTS
CONVINCE THEM
YOU'RE A MASTER HYPNOTIST!
SUBJECT LOSES ABILITY
TO STAND OR WALK
SUBJECT CAN'T GET UP
FROM CHAIR OR FLOOR
SUBJECT CAN'T OPEN EYES
SUBJECT CAN'T SPEAK
WITHOUT STAMMERING
and MORE!
---
Reproduced from a 1940's/50's original.
This is a facsimile edition of a 12-page 8½x11" mimeographed typescript.
AND THE PRICE IS THE
BIGGEST SHOCK OF ALL!
NOTE: These pdf files are not sent instantly by an autoresponder - your files will be sent "same day" as soon as a human being sees your Paypal payment and sends them as email attachments. Don't worry, it's still pretty fast!
BACK TO CARNIVAL INDEX HOME PAGE